Boredboredboredboredboredbored-HEY! I'll do requests then!

Yes I am again trying my hand at requests again. If I still owe you one (and I probably do) then remind me. I'm only doing a few at a time though (if this goes well, then I'll open some more spots.)

Line art:
1.
2.
3.
4.

Computer color (only 3 spots 'cause ew...color theory.)
1.
2.
3.

*No smuts/sexxors of any sort 'cause I'm not good at it yet.
*No mecha or machinery.
*When in comes to fandom pairings, I can be either very multi-shippy or OTP only. Just ask and respect my opinions, yo.
*People are people and love is love. Open to het, slash, femslash, and romance in general.
*Backgrounds, well that depends.
*And if it's a character I don't know especially OCs, send me a pic and backstory, whynot.

And now to take some aspirin!
x-posted, like whoa.
Current Mood:

artistic


Gift Picture Statuses:

Kyleen: Line work complete

Skye: Sketch complete

Self-deadline: June 8th

Riiiight. Not to mention that I'm going to Fanime con this weekend. YAY!


And hey, a meme yoinked from a bunch of people I lurk around...

Name a character and I'll tell you three (or more) facts about them from my own personal pseudocanon.

Adios muchachas ('cause most of you are chicas...at least that's what you've told me...:| )
Man, I've got to tell yas guys. Concolidating one's live into two boxes, a tupperware bin, and a trunk is serious, hard labor. So is getting all of the crap to a storage type facility. But this stuff should be in my real life journal. Enough of that then!
Current Location:

Elisa's house

Current Music:

The Spinners>> The Rubberband Man
1. Comment in this post with a pairing, a character, or a threesome.

2. I shall write you back a paragraph explaining what I think about it (good, bad, indifferent) and why.

3. Let's discuss / argue / CAPSLOCK at each other about it! I only ask that you don't get insulted, angry, mean, or stupid. (yeah, no drama plz)


More later.

*falls over, asleep*
Oh yeah...and...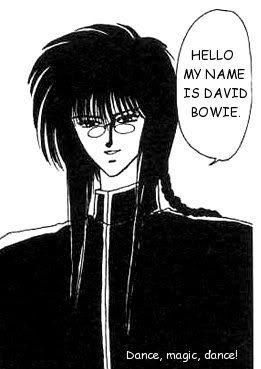 Guess that CLAMP series!
And I owe:
Skye: fairy!Mirta
Kyleen: Mamoru, ChibiUsa, and Makoto + a cake
They'll prolly be a bit sketchy tho so forgive me.
(new layout? Whoa!)
Current Location:

bed

Current Mood:

awake


This first one I yoinked from Skye (keep in mind that I usually write pairings in alphabetical order, not in order of who is dom):

Name six ships you like:
01. Daisuke/Ken [Digimon 02]
02. Akira/Hikaru [HnG]
03. Haruka/Michiru [BSSM]
04. Jack/Omi...duh [XS]
05. Otra/Winter [Girly]
06. Eagle/Hikaru/Lantis [MKR]

Three ships you used to like, but don't anymore:
07. Aang/Katara [A:TLA]
08. Sonic/Sally [STH]
09. Cosmo/Wanda D: [FOP]

Three ships in your various fandoms that you don't ship:
10. Katara/Zuko [A:TLA]
11. Chase/Omi [XS]
12. Seiya/Usagi [BSSM]

Two ships you are curious about but haven't actually started shipping:
13. Katara/Toph [A:TLA]
14. Tomoyo/Meiling [CCS]

The questions:


Next meme!

Give me a fandom (or a few) you know I know of and I'll tell you exactly what I think of:

1. The first character I first fell in love with
2. The character I never expected to love as much as I do now
3. The character everyone else loves that I don't
4. The character I love that everyone else hates
5. The character I used to love but don't any longer
6. The character I used to dislike but don't any longer
7. The character I would shag anytime
8. The character I'd want to be like
9. The character I'd slap
10. A pairing that I love
11. A pairing that I despise


YAY! ...*goes out for cream puffs*
Okay, okay. One at a time.
Current Location:

bed

Current Mood:

calm

Current Music:

nada


It's really just three things. For now, anyway.




That's all for now! Off to....ugh...more homework.
(aka "Oh snaps! She's gonna rant about art again!")
Current Location:

bed

Current Music:

idle
fandom_memes
(I gotta join that comm)
01. Post this on your journal.
02. Your friends will comment with some of your fandoms or some general topic about fandom (EX: just the fandom or things like "Prince of Tennis ships").
03. In a new post (or in comments) respond back with one or two of your unpopular opinions for that fandom or topic. (ex: Veronica should dump Logan's ass and take up with either Piz or Weevil!)
Um...that example...who are those people?
To make up for the cobwebs that are growing... A Meme! I got it from
Current Location:

Katie's room

Current Mood:

geeky

Current Music:

A:TLA theme song
Title:
Like A Weird But Fun Dream
Fandom:
Xiaolin Showdown
Character focus:
Omi, Jack
Genre:
varies
Rating:
PG
Length:
varies
Notes:
Done for the
1sentence
comm with the Beta prompt (out of order, however); a good couple of alternate realities within, but there are still plenty of references to certain episodes--if you know them, you get lots o' e-cookies. Constructive criticism is very, very accepted.
A.N.: E-hem. You guys. I finally finished something I said I would. O. M. G. Feel free, however, to slap me with Grammar Sticks(tm) and pound me with OOC Hammers(tm). In my defense, I didn't want them to get all mushy; it just kinda turned out that way...

Yeah, that's all I got. Commence beatings.
Current Location:

room

Current Music:

Gorillaz>>"Tomorrow Comes Today"







Yay! I was constructive with my time!! 8D
Stuff I did at the airport, mang.
Current Location:

bed

Current Mood:

depressed

Current Music:

meow


Title: Little Boy Blue
Fandom: Xiaolin Showdown
Character focus: Jack, minor-OFC (his gramma)
Genre: minor-Angst (death...themes? grieving?)
Rating: G
Length: 381 words


Well, one of those things.
Current Location:

anime club

Current Mood:

hungry

Current Music:

One Piece Special
Oh. My. Snap.

It's probably been thought of before but I just had to put it in my words.

Omi...is a composite of Dragon Ball!Killin and Dragon Ball!Goku.

He is.

Believe it.

He's got the competitiveness, monk-ness and baldness of Killin and the naivety, sweetness, and sometimes brashness of Goku. And his staff. With some yellow thrown in.

It makes me wonder what Jack might be a composite of...ARGH!



Yeah, I'm still on my XS kick; why do you ask?

K. I'm going to sleep now. Carry on.
Current Location:

bed

Current Music:

meow